Trying to figure out what the word "smart casual" means can rapidly turn into a nightmare. According to the Oxford Dictionary, it is "neat, traditional, yet reasonably informal in style, especially when worn to comply to a specific dress code." However, smart style of dress is the most popular dress code these days.
So you go online to look for smart casual style guides, which advise everything from shorts, which don't strike us as particularly smart, to Ascot ties, which don't strike us as particularly casual.
Whatever smart casual means today, it is unlikely to be the same as it was in the starched-collared nineteenth century.
WHAT EXACTLY IS A SMART CASUAL?
Before we go any further, let's address the lingering question: "What precisely is smart casual?" Here are some examples of how you might see this dress code in action:
SMART CASUAL DRESS CODE
Because smart casual signifies nothing, it can refer to anything. Mr. Porter's Style Advice page defines smart casual as "pretty much anything smarter than a tracksuit, but less formal than a suit." Mr. P adds, thankfully and more informatively, "An ideal answer is a blazer, white shirt, nice pants, and brown shoes."
However, there is no single answer. Debrett's Guide for the Modern Gentleman distinguishes between "formal smart casual" and "informal smart casual" in a well-meaning attempt to clarify that ironically complicates matters more.
INFORMAL SMART CASUAL STYLE
An informal smart-casual dress code, however, remains ambiguous beyond approval for "smart, clean, dark-colored trousers," a declaration that "polo shirts are better than collarless T-shirts," and a directive to "change from what you have been wearing at home."
But, while it may appear cryptic, this last point is likely the best place to start. One of the reasons smart casual is so difficult to describe is that it can signify quite different things in various circumstances. It's as much a state of mind as it is a clothing.
WHAT IS THE DIFFERENCE BETWEEN A CASUAL STYLE AND A SMART CASUAL STYLE?
When it comes to the distinction between casual and smart casual, the latter can be thought of as taking things up a level. While casual attire can be as easy as jeans and a t-shirt, smart casual can mean wearing a collared polo instead of a standard tee or deeper wash denim.
Another distinction is that smart casual results in a more polished appearance. Casual might come out as slouchy or lazy (baggy pants, for example), whereas good casual conveys professionalism, or at the very least, care behind your attire.
Having said that, casual attire can be a terrific starting point for obtaining the perfect smart-casual outfit. Begin with items from your everyday clothing and then add some more posh or flashy items. This should point you in the direction of an outfit that is a little fancier than your everyday wear, without losing comfort or your own personal style.
STYLE TIPS FOR SMART CASUAL MEN
Here are some pointers to help you get started when it comes to dressing in smart-casual attire:
1. ATTITUDE
The key words here aren't "shoes," "trousers," or "tie" (after all, we're talking about smart casual), but "polished," "pressed," and "correctly." A crisp T-shirt, indigo jeans, and brand-new sneakers can look more formal than a wrinkled shirt, discoloured pants, and scuffed shoes.
However, a T-shirt, jeans, and sneakers are not always appropriate. However, smart casual is perhaps more of a state of mind or attitude than a particular formula or collection of components. As Debrett puts it, "just because an event is informal does not imply that no effort is being made."
2. APPLY SOME SHADE
To vary the casualness of an ensemble, you don't even need to replace elements. Darker colours are more formal, so dressing up can be as simple as dimming the lights.
Consider an olive green bomber jacket, a white T-shirt, stonewashed trousers, and white sneakers.
Replace the olive bomber with a blue one and the stonewashed jeans with indigo. It suddenly feels more formal. Even more so if you replace the white T-shirt with something like mid-grey or charcoal, and the sneakers with navy or black.
The basic styles are identical, yet the total impact is vastly different. The opposite is also true: lighting up is a smartness dimmer switch.
3. COMBINE THE ROUGH AND THE SMOOTH
Texture is another (important) characteristic that influences a piece's relative smartness or casualness. The most formal items in menswear, such as worsted wool business suits or barathea dinner jackets, are virtually always smooth and shining.
However, swapping the worsted wool for a matte flannel or tweed changes the piece's feel both literally and conceptually. This generally makes the clothing appear larger in size, which adds to the more casual vibe, considering that smarter designs are typically sleek and streamlined.
This is a useful guideline of thumb and forefinger that can be used to casualize almost any piece: shirts, knits, pants, and even shoes.
4. THE BLAZER TRAIL
Throwing on a jacket over a T-shirt, jeans, and sneakers is an easy way to achieve a smart-casual look. But not all blazers are made equal: gold buttons are a little "gin and Jag," to steal a lovely phrase from Debrett's (AKA the sort of middle-class people who drive Jaguar cars and drink gin and tonics).
As previously stated, a textured blazer will look great with jeans. As will one be cut a little shorter, possibly with smaller, more modern lapels. Patch pockets, which appear to be sewed on, are also 'cazh'.
Finally, removing the padded shoulders and canvassed chest present in smart blazers will make them feel more casual, if not comfortable. N.B. Don't shred your blazer; instead, look for the word "unstructured."
5. BUTTON UP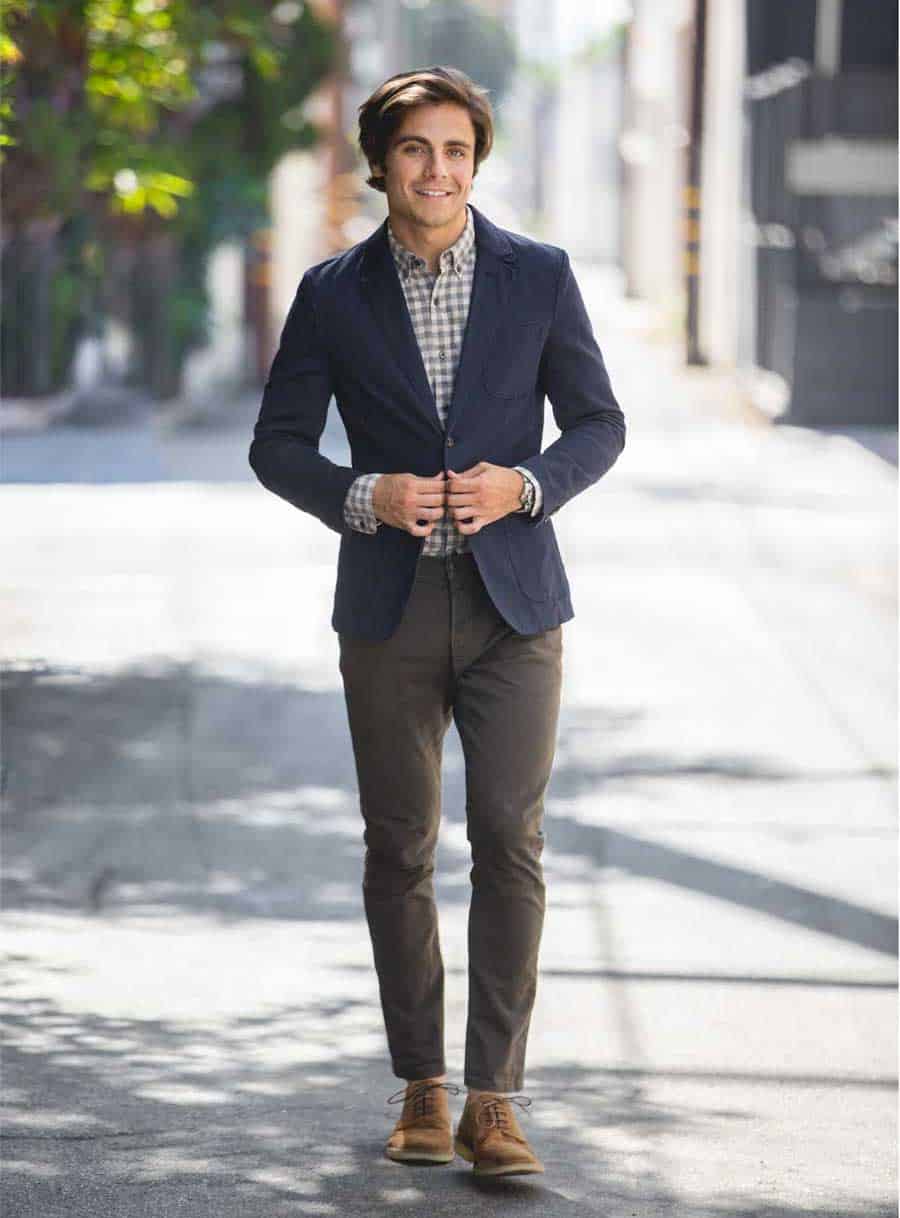 A T-shirt can be considered smart casual if it is plain, of decent quality, well-fitting, and has not been washed to death.
A polo shirt, on the other hand, will instantly dress up a casual outfit. The buttons and collar elevate it to the level of a shirt, but it remains sporty. Indeed, as the name implies, it was initially worn for polo, as was the button-down collar to keep it from flapping around.
That brings us to the button-down shirt, which isn't as stiff as one with a firm collar and cuffs. It's also available in less smooth and sparkly fabrics like Oxford cloth or chambray.
6. APPLY YOUR FINERY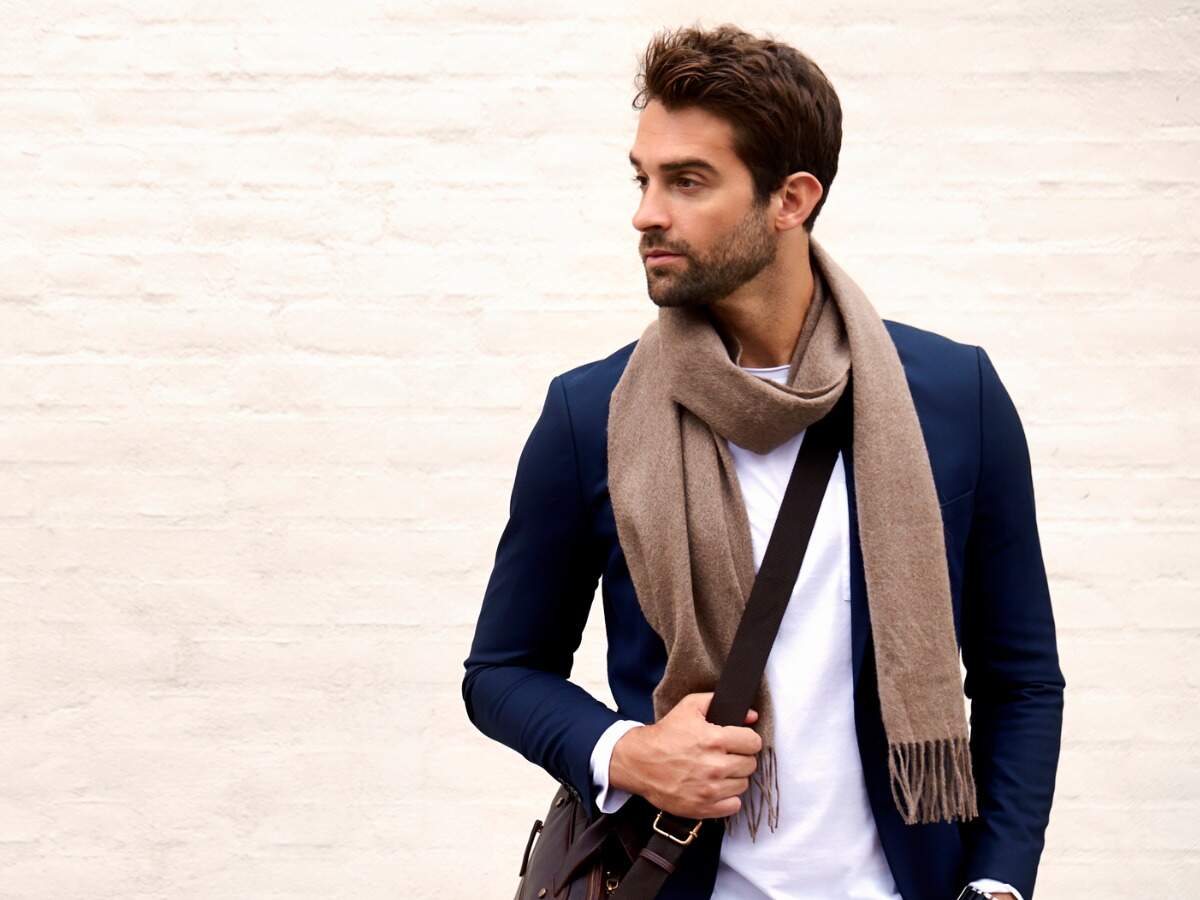 A fine-gauge knit in merino, cashmere, or even cotton may add a touch of refinement to these thick, informal, and sporty garments. Pull a basic jumper or cardigan over your T-shirt (and perhaps switch out the trainers for shoes) and you're ready to weave.
Obviously, a thick knit won't have the same impact, but a shawl-collar cardigan instead of a jacket can look elegant if it doesn't have toggles or a giant moose on it. A knitted blazer falls somewhere in the middle.
7. DISCOVER THE DIFFERENCE
Legwear is a common smart-casual stumbling block. Jeans are generally fine – even in a work setting – as long as they are dark and undistressed. However, there is always a risk. Then there are failsafe chinos, with a focus on the word "safe."
Your pins are a sometimes overlooked opportunity to not only formalise but also flex an outfit. Returning to the bomber jacket, T-shirt, jeans, and sneakers, swapping the jeans for tailored pants can seem not only smart, but also stylish.
A textured, non-shiny fabric, such as flannel or linen, can help you pull off the casual trouser, but it's not an easy move. As a result, most guys stick to jeans or chinos.
8. STAY ON THE RIGHT SIDE OF THE LINE
Trainers, like jeans, can be worn in a variety of casual contexts nowadays. But if you're unsure, go with the safe option.
What distinguishes a smart shoe from a casual shoe? Color: black is the most formal, brown is more informal, and tan is even more casual. A round or almond toe, as well as a chunky sole, are more casual than a pointed toe. In terms of texture, nubby, matte suede is more relaxed than smooth, shining leather.
For these reasons, wingtips, Derbies, loafers, Chelsea boots, and chukkas are preferable to office-appropriate Oxfords. However, some examples can be incredibly clever, while others might be very casual. So proceed with caution.
Many smart casual style recommendations rule out trainers entirely, but this is a touch out of date.
Where trainers are permitted, a classic style, such as Converse Jack Purcells, Adidas Stan Smiths, or Common Projects in white, is often recommended, and this is not incorrect. A more formal, dark colour, on the other hand, is smarter in more ways than one: they are less likely to grab the eye, and hence judgmental glances, or to display dirt.
Shiny, silky leather is wiser than matte, coarse canvas, and suede falls somewhere in the centre. Knitted trainers can also look good if they're dark, but they're a little too modern for some situations – and a step too far away from actual shoes.
Check out our guide on a formal take on suits here and check our guide on grooming mistakes to avoid here.